Cape Cod Beer has teamed up with Barnstable Clean Water Coalition to create Clean Water Wednesdays/Mondays, an educational series held at Cape Cod Beer. Join the experts as we deep dive into topics that are affecting not only our water on Cape Cod but globally as well! #CleanWaterMatters
If you want to be part of Clean Water Wednesdays, you can purchase a Clean Water Wednesday 20 oz glass for $6 from Cape Cod Beer's online store.. and they will either ship it to you.. or you can stop by and pick it up!  A dollar from every glass sold goes to support Barnstable Clean Water Coalition.  Order glasses for shipping here.
---
Clean Water Wednesdays - 2023
The Washashore Problem & an Artful Solution
This month we're tackling marine debris, our reliance on plastics, and its impact on our oceans. Living on Cape Cod, we are quite literally surrounded by this pollution on a constant basis. Want to learn how we can play a part in fighting this global crisis? Join us at Cape Cod Beer on Monday, January 23rd at 6:30pm to hear from a local expert and an artist who are committed to addressing this problem in different ways!
Laura Ludwig, director, and founder of the Marine Debris & Plastics Program at the Center for Coastal Studies, turns her passion into leadership through her work to fight the ocean pollution crisis. In 2012, Laura developed a "Beach Brigade" of 300 volunteers who work together to clean our shorelines. Laura will be sharing her knowledge and experience on plastic debris in our oceans and what we can do to help.
However, the informative night doesn't end there! Ever wonder what can be done with the plastic once it's collected off the shore? Sarah Thornington, a Cape Cod photographer, and artist has found a valuable answer. As seen on CBS Boston, CapeCodXplore, and more, Sarah has found a new meaning to the word "upcycle" as she converts the trash collected from the shores into works of art!
This event is FREE to attend. Please RSVP through Eventbrite!
---
Speaker Bios:
Laura Ludwig Short Bio:
Laura Ludwig, director and founder of the Marine Debris & Plastics Program at the Center for Coastal Studies, focuses on an interdisciplinary approach to investigate and respond to abandoned, lost, discarded or end-of-life fishing gear, beach debris, microplastics, and other marine plastic debris issues. Since beginning the program in 2012, she has grown a 300-person volunteer "Beach Brigade" which supports an active year-round shoreline cleanup and debris data collection effort on Cape Cod.
Sarah Thornington Short bio:
The 2022 recipient of CARE (Creating A Responsible Environment) for the Cape and Islands Stewardship Award, Sarah Thornington is a portrait photographer & conservation artist who has lived on Cape Cod for the past 30 plus years. A passionate protector of the planet, she can often be found cleaning the beaches- alone or as part of the Center for Coastal Studies 'Beach Brigade' - creating with the marine-debris found to keep awareness on our single-use plastic problem or talking about the issues through workshops and presentations.
Time To Stop Kicking the Can: Addressing the Cape's Wastewater Crisis
On Monday, February 27th from 6:30-8:30pm, head to Cape Cod Beer for an informative evening on the topic of wastewater on the Cape. Much needed changes are coming to address how to reduce the flow of wastewater loaded with nitrogen and other pollutants into our local waters. And these changes will be impacting all of us here on Cape Cod!
Start the evening by learning about the regional implications of regulations proposed by the Massachusetts Department of Environmental Protection, which are designed to improve coastal and inland water quality by accelerating reductions in nitrogen releases from traditional septic systems.
The evening will conclude by hearing about BCWC's neighborhood demonstration and testing project for innovative and advanced (I/A) septic system technologies and other non-traditional solutions for controlling nutrient loading in the Three Bays watershed. A bigger issue is how will the average homeowner pay for these septic system upgrades and sewering. Find out about the financing options available, including the newly revised Barnstable County Septic Management Loan Program.
---
Speaker Bios:
Zee Crocker:
BCWC Executive Director Zenas "Zee" Crocker grew up on Cape Cod and has ancestral roots in Osterville, Cotuit, and Barnstable. He spent over 30 years in the financial services industry in New York, Boston, and Asia before retiring in 2016. Zee's extensive travels informed him about our increasingly compromised global environment, especially regarding air and water pollution. Unable to sit still in retirement, Zee agreed to take the helm of Barnstable Clean Water Coalition (BCWC) in June 2017 with a focus on addressing water quality conditions and developing nature-based solutions to improve and clean the Cape's waters.
Brian Baumgaertel:
Brian is the Director of the Massachusetts Alternative Septic System Test Center and is a Senior Environmental Specialist at the Barnstable County Department of Health and Environment. He is a Registered Sanitarian, Environmental Health Specialist, Title 5 Soil Evaluator and Wastewater Treatment Plant Operator. Originally from Upstate New York, Brian has lived on Cape Cod for 15 years and currently resides in Mashpee.
Beneath the Waves: Local Shellfish and the Impacts of Ocean Acidification
Did you ever wonder where your oysters and clams come from? There's a good chance they were grown by a farmer. Head to Cape Cod Beer on Monday, March 27th from 6:30-8:30pm, for an educational discussion that dives into the local shellfish industry and learn about the different species grown, the variety of gear used, as well as the challenges facing shellfish growers.
The night will wrap up with an overview of ocean and coastal acidification and its expected impacts to people and natural resources in the region. Guest speakers, Abigail and Jennie, will also share intriguing preliminary results from a field investigation of the effects of coastal acidification on oyster and quahog growth and survival in the Three Bays estuary.
---
Speaker Bios: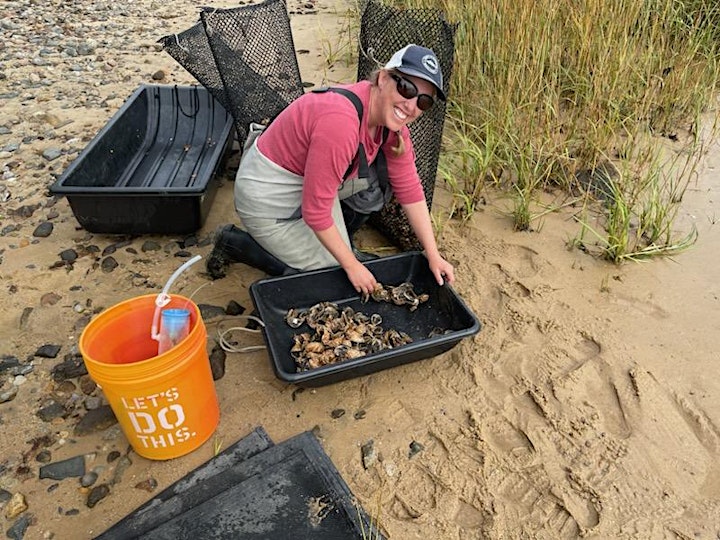 Abigail Archer: Abigail works as an Extension Agent (Fisheries & Aquaculture) for two entities with shared goals; the Barnstable County Cape Cod Cooperative Extension Marine Program and for WHOI Sea Grant. She works with shellfish growers, municipal natural resource managers, shellfish constables and river herring wardens to carry out monitoring and scientific research projects that answer their questions about marine resources. She also serves as staff for the Southeastern Massachusetts Aquaculture Center (SEMAC). The mission of SEMAC is to foster the sustainable development of private/public aquaculture endeavors within the southeastern region and throughout the Commonwealth of Massachusetts through education, research, technical and economic assistance, best management practices and demonstration projects.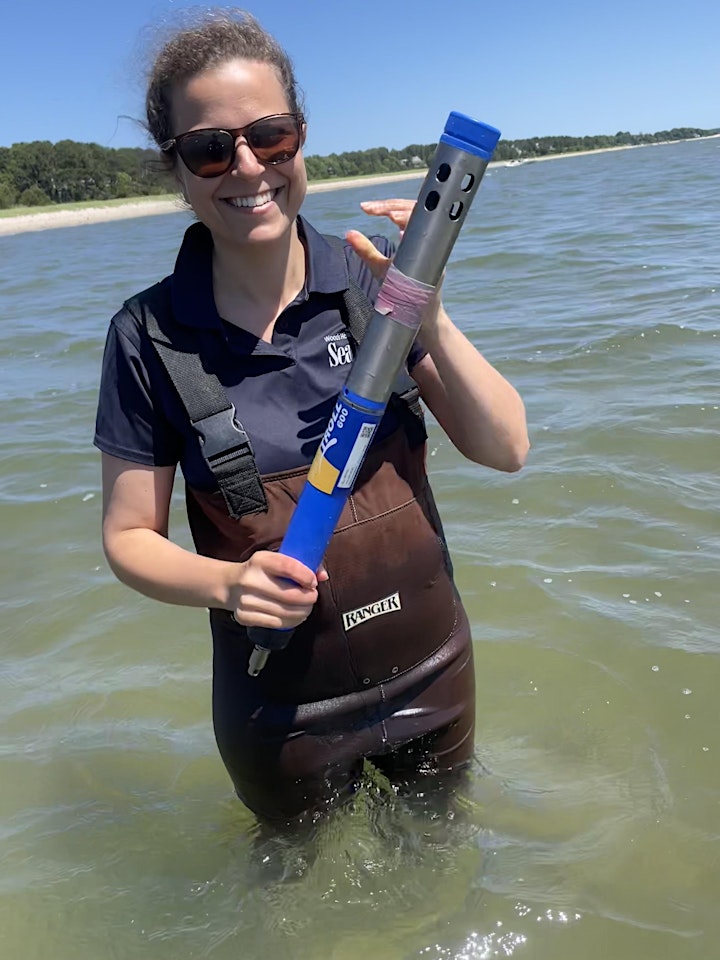 Jennie Rheuban: Jennie is a Research Specialist in the Marine Chemistry and Geochemistry Department at the Woods Hole Oceanographic Institution, and Research Coordinator for WHOI Sea Grant. Her research focuses on human impacts to coastal ecosystems, focusing on issues related to coastal chemistry and influences on natural resources. Her work combines observations, experiments, and modeling on topics such as coastal water quality, ocean acidification, and climate change.
---
Clean Water Wednesdays - 2022
---
Clean Water Wednesdays - 2020
Innovative/Alternative Septic Systems
John Smith, the president of KleanTu, will provide summary information and performance data on KleanTu's two Innovative Alternative (I/A) technologies, the NitROE® Waste-Water Treatment System (WWTS) and the SanTOETM WWTS), for enhanced total nitrogen (TN) reduction, that are now being deployed and demonstrated on both Martha's Vineyard and Cape Cod. Both the NitROE® and the SanTOETM WWTS's are demonstrating the ability to consistently produce a highly treated wastewater, including significant TN reduction, in a low cost manner.
Click here to view John Smith's presentation from CWW.
---
George Heufelder, co-Director of the Massachusetts Alternative Septic System Test Center will provide information on some of the innovative/alternative systems being tested.
We'll be joined by Abigail Archer (Fisheries and Aquaculture Specialist, Woods Hole Sea Grant/Cape Cod Cooperative Extension Marine Program) and Betsy Gladfelter (Conservation Commissioner, Town of Falmouth). Abigail will discuss the life cycle and population status of river herring and the history of fish ladders on Cape Cod. Betsy will talk about the restoration of the Coonamessett River in Falmouth and the restoration's impact on river herring habitat and fish passage.
Jack Ahern, Professor of Landscape Architecture at the University of Massachusetts Amherst, and this talk is Designing with Nature on Cape Cod and the Islands. His talk will explain how to preserve the special environmental and visual character of the Cape and Islands through an "ecologically-based" approach to landscape design. This approach starts with an understanding of the Cape and Islands' native plants and plant communities, which are well-adapted to local soils and growing conditions. Ahern will discuss how these plant communities can be designed for landscapes where people live, learn, work, and play. His approach will be illustrated with examples of landscapes on the Cape and Islands that have applied this approach. The talk is a preview of Ahern's upcoming book "Designing with Nature on Cape Cod and the Islands".
---
To view the slides from the presentation, click here.
---
Clean Water Wednesdays - 2019