'Looks Like Something's Guts Spilled All Over The Beach'
Mashpee Enterprise
By RYAN SPENCER
Jan 22, 2021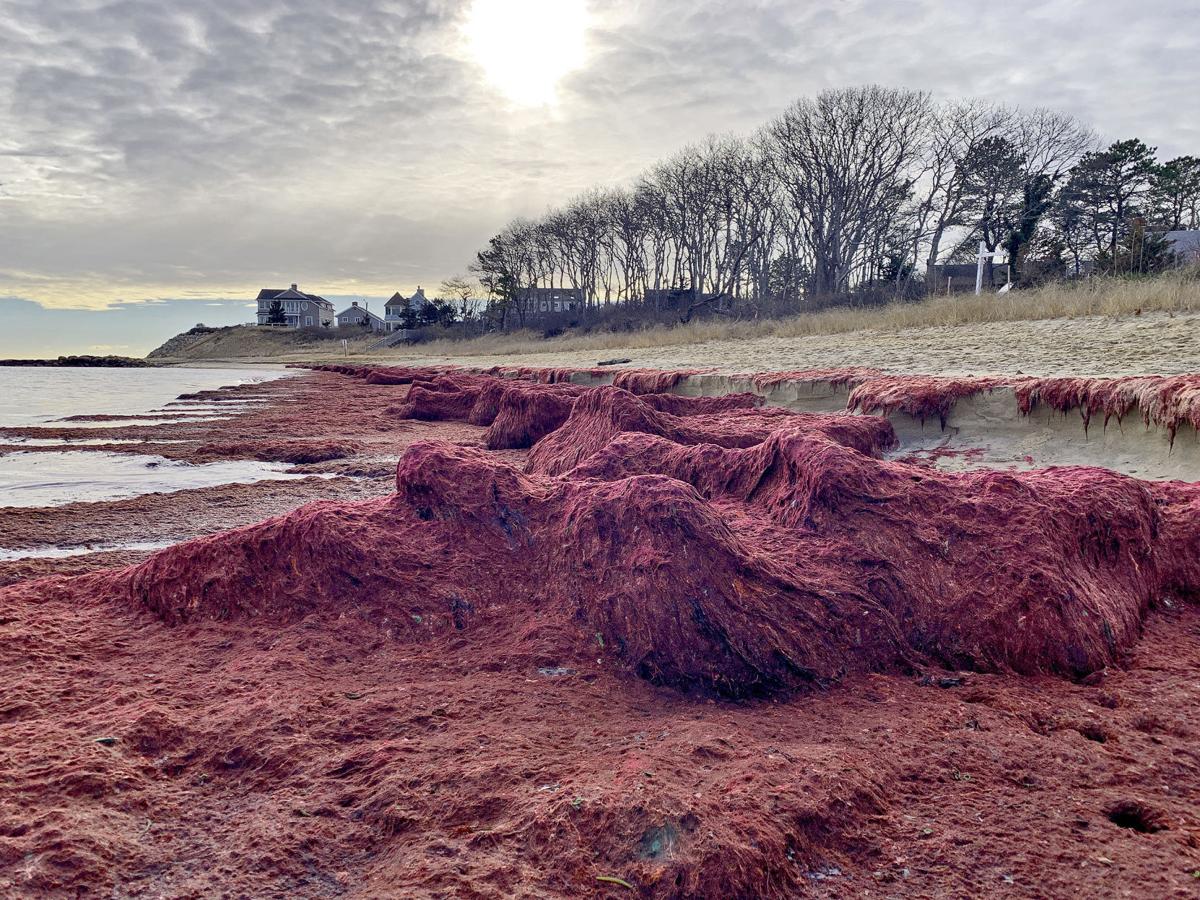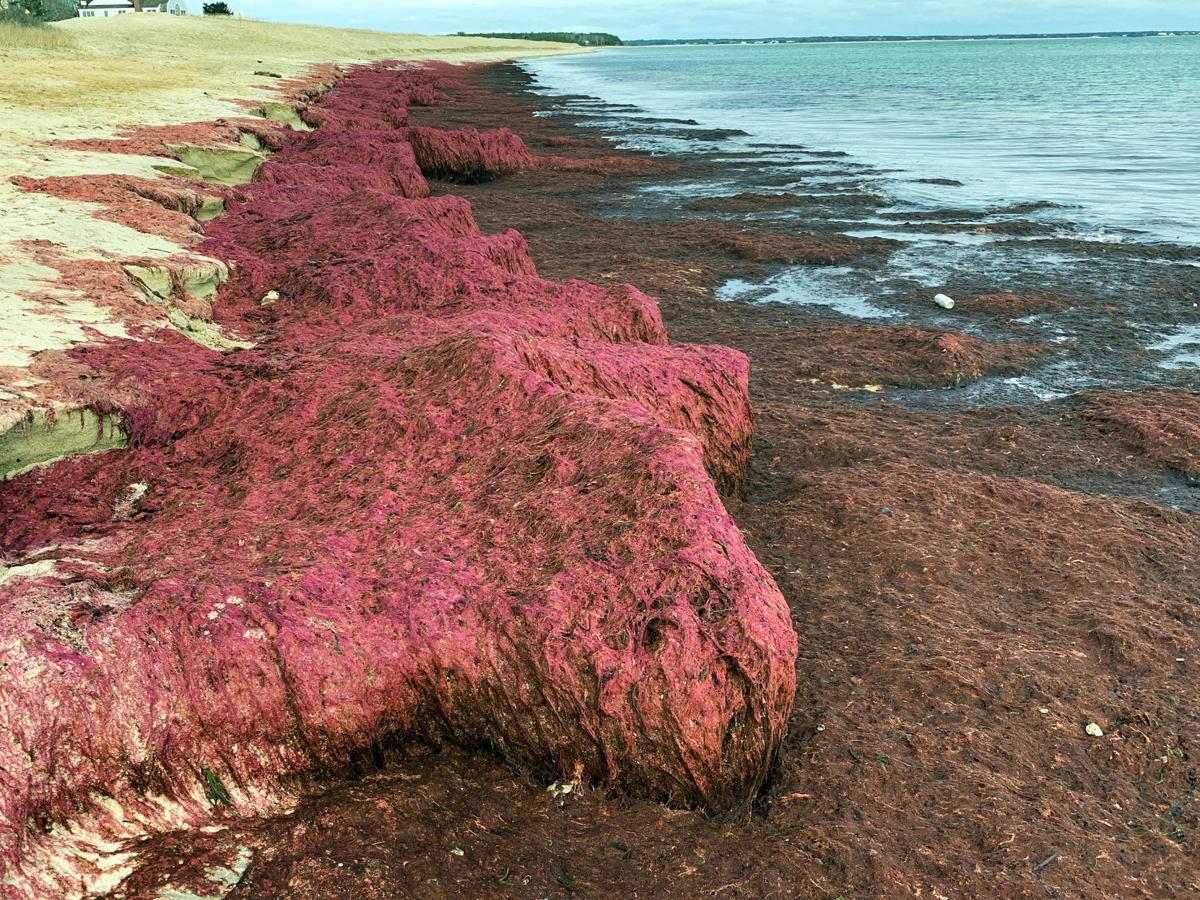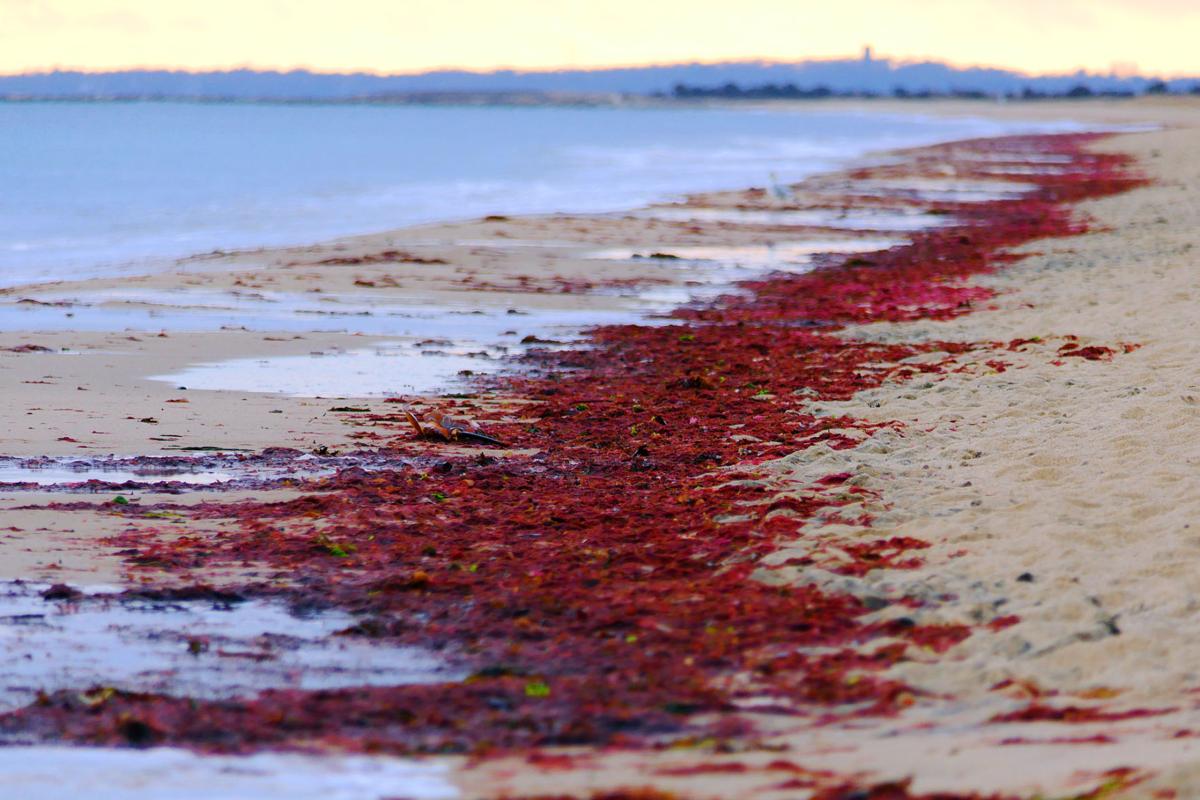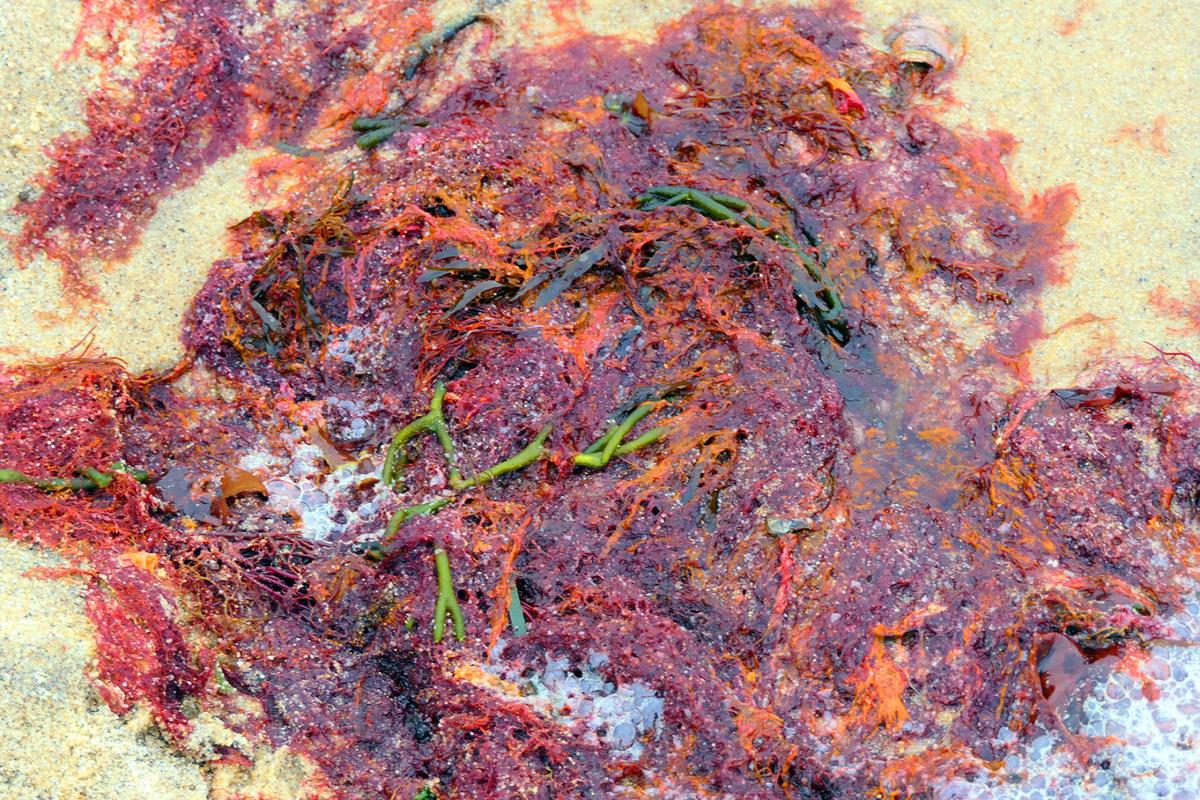 Swept ashore by the Nantucket Sound, algae at the Popponesset Spit this January mounded into foot-tall lumps and blanketed a more than 100-foot stretch of beach in a deep red color.
"It looks like something's guts spilled all over the beach," said Nicole Corbett, who teaches high school science in Abington and whose grandparents have owned a house in Popponesset since the 1950s.
Ms. Corbett, who said she has spent most of her life visiting the Spit on a regular basis and has a background in environmental science, identified the red algae as Heterosiphonia japonica, an invasive species native to the Pacific Ocean.
"Once it gets into a body of water and there are enough nutrients available, it begins to spread," Ms. Corbett said. "Because there are so many nutrients from septic leaching and run off, it is growing out of control now."
As nutrient pollution spurs recurring algal blooms in Mashpee's ponds and bays, Ms. Corbett and a high school student are investigating the bloom of red algae that has inundated the Popponesset Spit in recent winters.
The red algae first appeared on the shores of Popponesset a few years ago, Ms. Corbett said. This year, the bloom was worse than ever.
"It's the worst we've seen in the winter by quite a bit," she said. "Poppy residents are very concerned."
Last year, Dr. Joseph Costa, the executive director of the Buzzards Bay National Estuary Project, met with Ms. Corbett and other concerned residents at the Popponesset Spit.
Although he said there was not much of the red algae on the beach during his visit in the late spring, Dr. Costa said he agreed with Ms. Corbett's identification of the red algae as Heterosiphonia japonica.
"This is one of these algae species that are very difficult to identify without microscopic study," he said, "but it appeared to be that species."
Like Ms. Corbett, Dr. Costa said the large blooms of the red algae are likely linked to nutrient pollution.
"There is a conspicuous accumulation of red algae that appears from time to time on Poppy Beach, and it may be due to nutrient accumulation in the bays," he said. "My gut feeling is it may be related to algae washing out of more eutrophic embayments."
Popponesset Bay is the most nutrient-polluted bay in southeastern Massachusetts. Years of nutrient runoff from septic systems and other human sources have led to an overabundance of nutrients in the bay that act like fertilizer and fuel the growth of algae.
"There are many embayments being impaired by excess growth and accumulation of algae on the bottom," Dr. Costa said. "But seeing algae washing up on shore on beaches, it is a little difficult to say where it is coming from or why it is there."
An overabundance of algae could have potential impacts on the food web, and large mats of algae have been known to smother shellfish species and cause animals to die off in the sediment as the decaying algae absorbs oxygen from the water column, Dr. Costa said.
"I see a lot of questions to answer when it comes to these unusual accumulations on beaches on the outer coast," Dr. Costa said. "It's very complicated, and it would require a little more study."
For now, any answers to those questions may have to come from citizen scientists like Ms. Corbett, who said the red algae appears to be washing up on more and more local beaches.
"Barnstable looks just as bad as Popponesset, if not worse," she said. "Soon, [the algae] will start affecting Mashpee's other beaches and then start heading down to Falmouth."
In recent months, Hans Brings, a summer resident of Popponesset and a senior at Xaverian High School, has attempted to track the breadth of the red algae bloom near Popponesset.
Using his jet ski, Mr. Brings followed clusters of the red algae as they drifted with the current along the coastline. He said he traced the coast looking for the algae from Popponesset to Woods Hole about four times between the end of October and the first two weeks of November.
"I started in the channel area of Popponesset Bay; that is where I saw a lot of it was growing on the ground," Mr. Brings said. "In the areas with more flow, it was getting ripped off the ground."
The concentration of algae was at its worst at the foot of the Spit where a long jetty extends into the Nantucket Sound, trapping much of the algae, he said.
For a short distance, the amount of algae along the beaches got better, Mr. Brings said.
"Where it would get worse again is right near the Popponesset Inn and The Lure," he said, describing, "big patches that would stretch 50 feet out" into Nantucket Sound.
He said he continued to spot "big patches" as he rounded the corner past New Seabury toward South Cape Beach. As he neared Waquoit Bay, the jetties appeared to prevent the algae from traveling much further, Mr. Brings said.
"From my observations it would still be in patches through the Woods Hole area," he said. "Patches that had much volume ended right around the Waquoit jetties."
Ms. Corbett raised concerns about both the environmental and economic impacts of the large algal blooms.
While the red color of Heterosiphonia japonica makes the winter algal bloom stand out, multiple species of algae wash up at the Popponesset Spit throughout the year, she said.
In the summer months, algae accumulated along the Spit gives off a putrid scent as it begins to decay, she said.
"The beach water turns black and smells like rotting sewer," Ms. Corbett said. "It was impossible to swim in Popponesset for a good two or three weeks this summer."
Unswimmable beaches could mean tourists or potential homeowners may look elsewhere, she said.
Ms. Corbett encouraged residents to continue to educate themselves on issues related to nutrient pollution and to work toward solutions such as replacing septic systems with sewers or other technologies.