'A Perfect Storm Of Circumstances': Mashpee Scientist Researches Seaweed, Jellyfish Surges
Mashpee Enterprise
Alex Megerle
August 31, 2023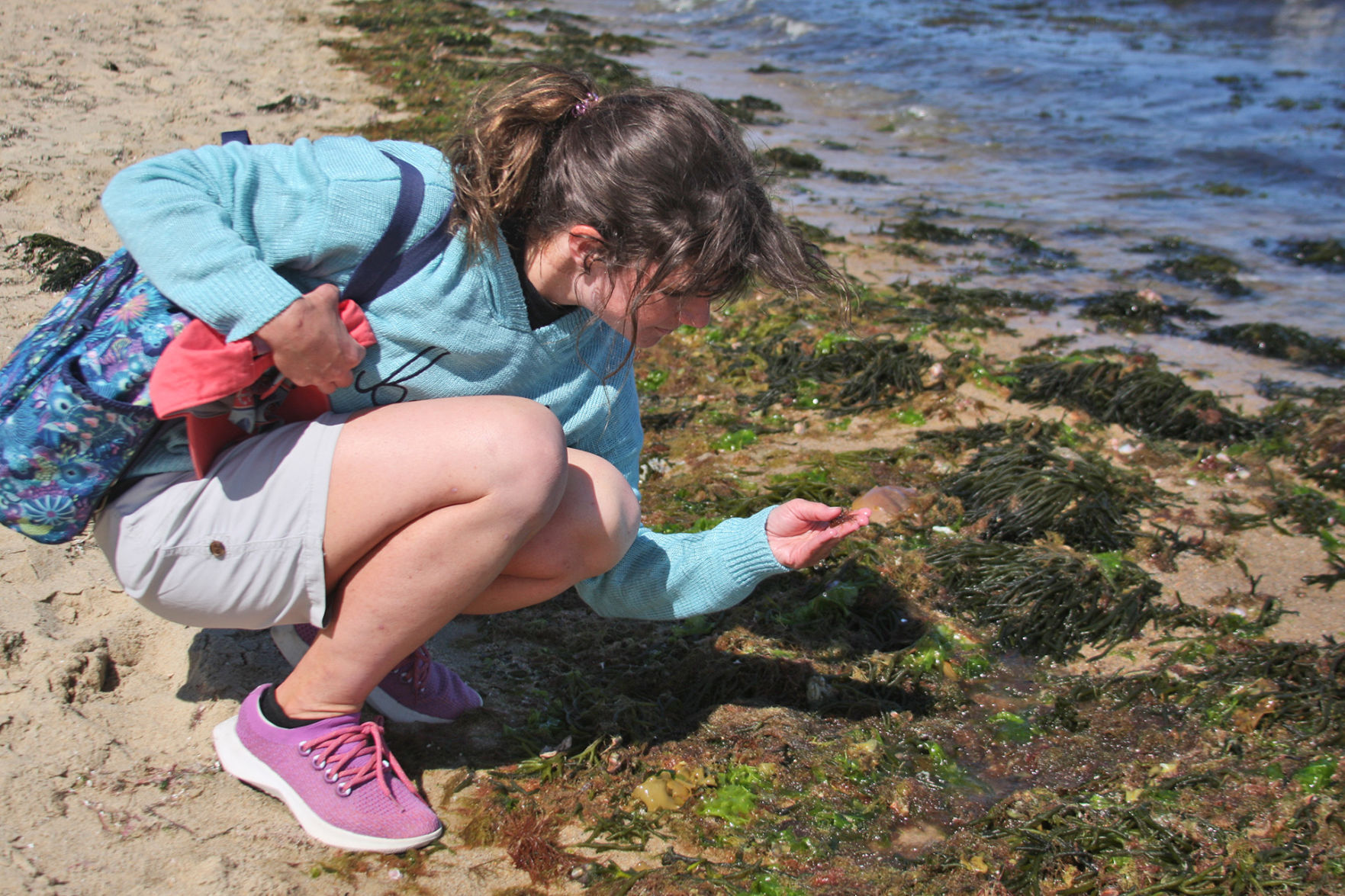 It was a picture-perfect August day on Cape Cod when the boat anchor came up caked with black sludge.
From the depths of Popponesset Creek came the alien-looking goo, an unpleasant-smelling substance that Nicole Corbett said was mostly made of decomposing Gracilaria tikvahiae, a seaweed found in nutrient-rich waters.
Ms. Corbett, an environmental scientist with deep ties to Mashpee, and Luke Cadrin, field operations manager for the Barnstable Clean Water Coalition, were using an underwater camera rig to photograph the creek floor.
The underwater imaging helps Ms. Corbett identify different seaweeds on the bottom of waterbodies. Benthic, or bottom, ecology is "telltale of what's going on with your water quality," she said.
The tricky part with Popponesset Bay, she said, is that in some areas, "the sludge has become so thick that any images you're getting are just of the sludge."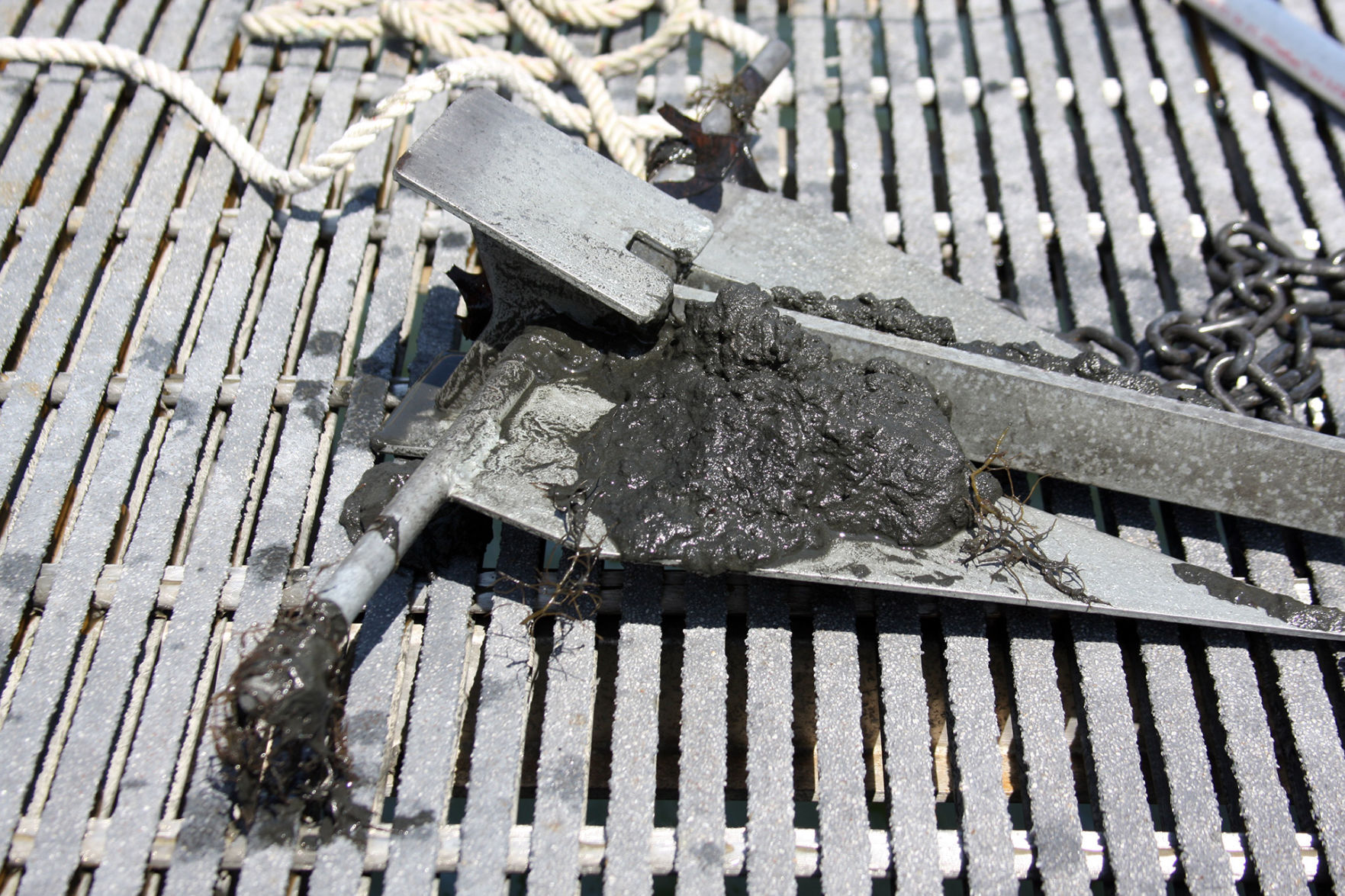 Together with the Popponesset Water Stewardship Alliance, a nonprofit she founded in 2021, much of Ms. Corbett's work focuses on seaweed and jellyfish: two ubiquitous lifeforms that are natural parts of the town's ecosystem.
The problem? Both jellies and invasive seaweed have been on the rise over the last decade.
Little data-driven evidence explains why, Ms. Corbett said, but case studies from other areas and circumstantial evidence allow educated guesses.
"I think we have a combination—we'll say a perfect storm of circumstances," she said. That would be Mashpee's familiar two-headed monster: rising water temperatures and nutrient runoff from septic tanks and fertilizers.
Armed with this knowledge and with the help of a diverse crew of researchers, universities and citizen scientists, Ms. Corbett is on a mission to find out everything she can about Mashpee's new aquatic inhabitants.
Getting Into The Weeds
Native seaweeds support shellfish and juvenile fish populations—fish can use them to hide from predators—but invasive seaweeds are not so helpful.
They are "shorter and bushier," Ms. Corbett explained, "and really don't serve as good habitat for those juvenile fish and shellfish populations."
The primary invasive washing up on Popponesset Beach in recent years is Dasysiphonia japonica—Dasy for short—a red-colored species that arrived from east Asia. It can inundate beaches in winter, spring and fall, Ms. Corbett said. It also has a huge temperature threshold, and while native species can survive colder water as well, Dasy's rapid growth rate allows it to outcompete them.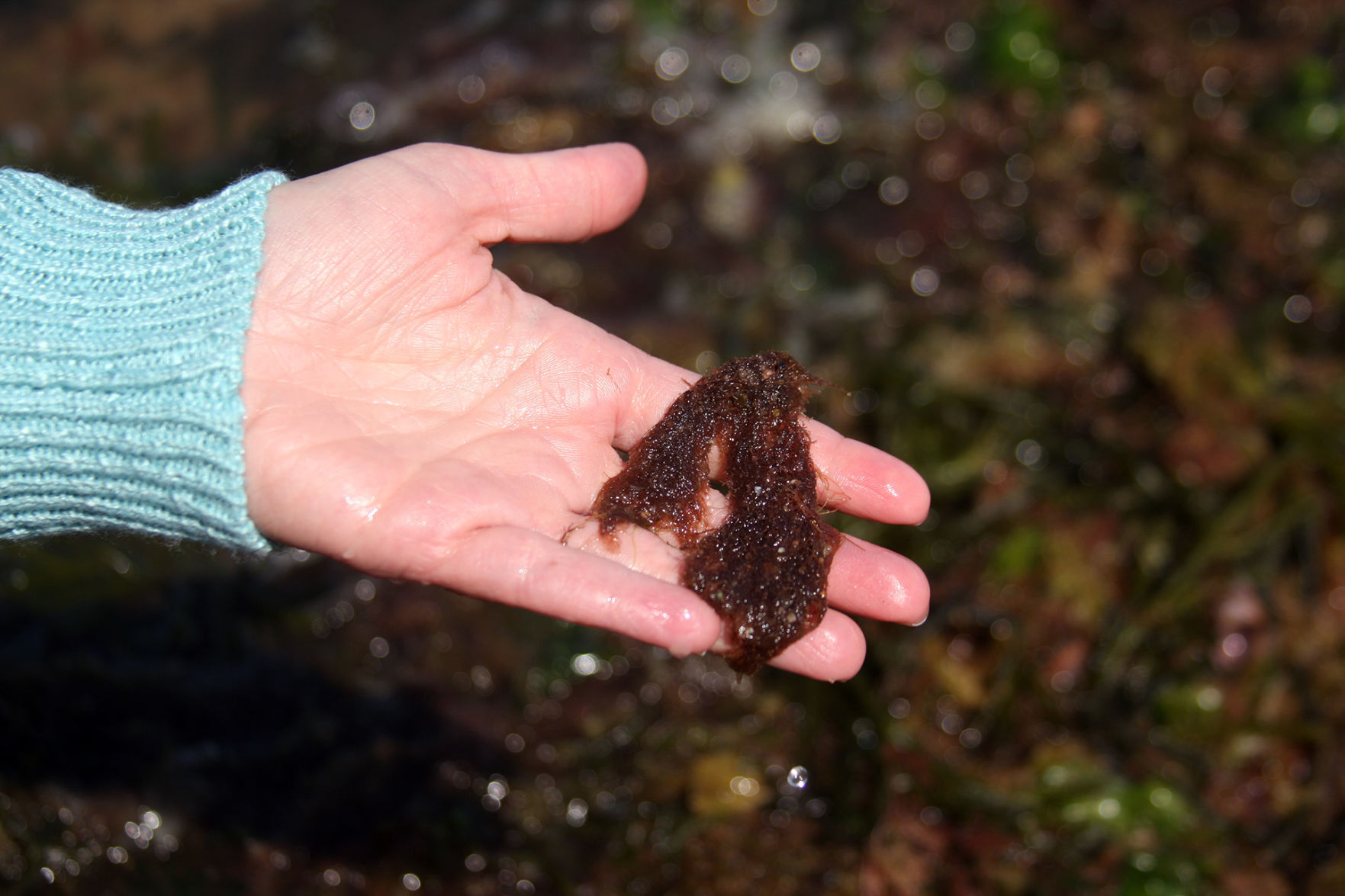 A study of Dasy in Long Island found that warming sea surface temperatures and nutrient-rich runoff enhanced the seaweed's growth, she explained. The water alliance is seeking funding for a pair of their own proposals to study the correlation between seaweed growth and nutrients.
Dasy grows in both Popponesset Bay and Nantucket Sound and breaks off before washing up on beaches. The species can continue to grow and reproduce even after breaking off, Ms. Corbett said, and nutrient enrichment on the coastline could be allowing it to grow as it drifts along the beach.
In July, Popponesset and South Cape beaches saw a large inundation of both Dasy and a second type of invasive seaweed, Codium, she said. Levels have since dropped, but Ms. Corbett anticipates seeing Dasy again in the fall: since the mid-2010s, the species has tended to spike in the autumn.
She will have help spotting the seaweed if it does come back: members of the public can report Dasy sightings on their beaches through a spotting program the water alliance runs in conjunction with the Barnstable Clean Water Coalition.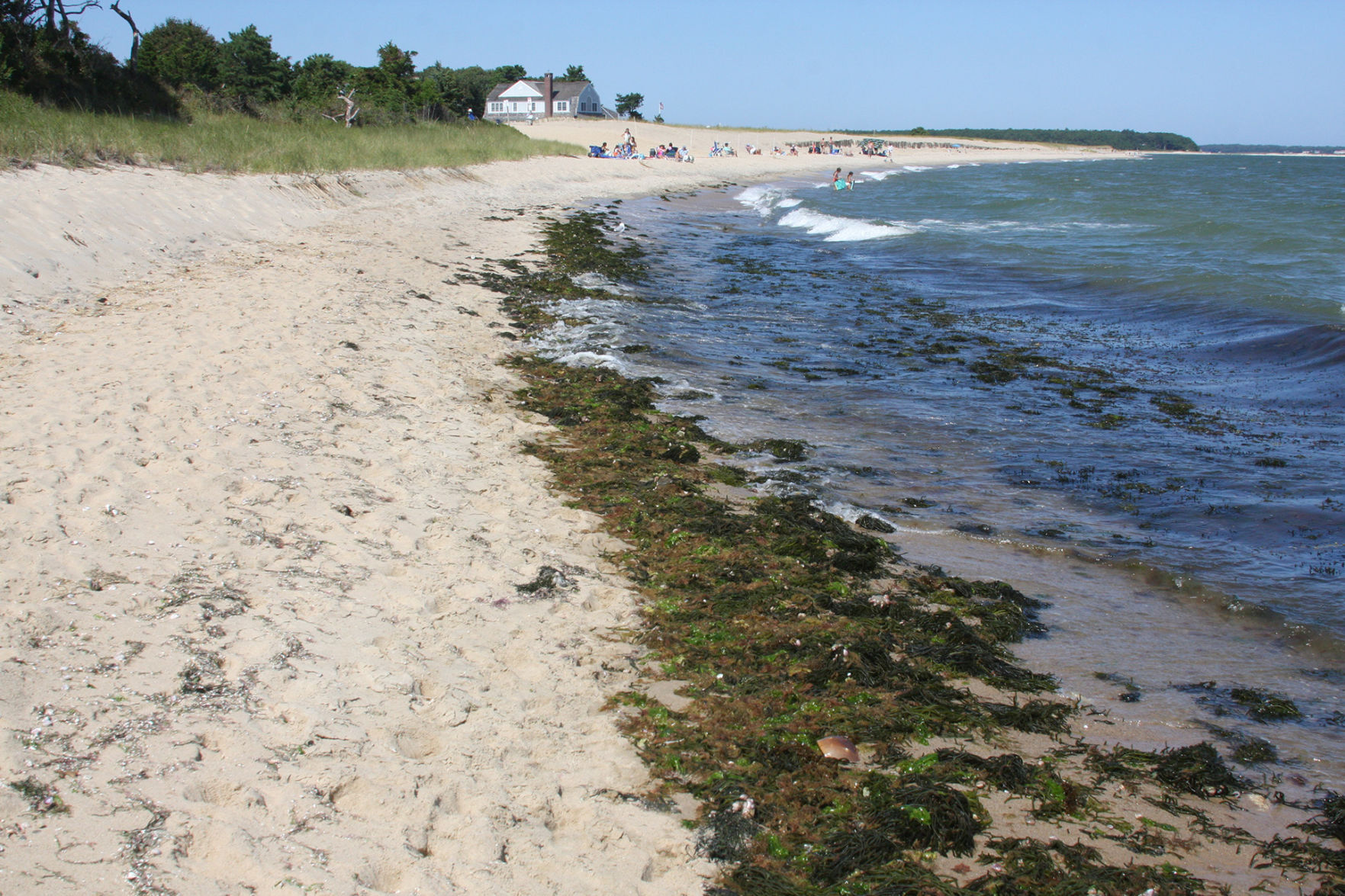 It will be important to keep an eye on the species. When invasives outcompete natives, "you're basically undergoing an ecosystem transformation," Ms. Corbett said. "So the full impacts of that transformation are not 100 percent clear yet."
Plenty Of (Jelly)fish In The Sea
Rising jellyfish numbers could be stemming from the same issues causing the seaweed spike.
There have been several studies correlating jellyfish to nutrient enrichment, Ms. Corbett said, as well as evidence suggesting warmer waters help promote jellyfish blooms.
Atlantic bay nettles, a species Ms. Corbett called more migratory than invasive, began to show up in Mashpee around 2016, she said, after coming up the coast from the Chesapeake Bay. A heavy dose of both moon jellies and bay nettles hit Mashpee in 2021, and bay nettles were "incredibly prevalent" this year, she said.
Bay nettles can deliver stings—badly enough to send victims to the hospital at times, including Ms. Corbett herself after an encounter in 2018.
The water alliance began distributing sting kits from a research lab at the University of Hawaii in 2021. A total of 14 kits are scattered along a mile-and-a-half stretch of Popponesset Beach, Ms. Corbett said.
Beachgoers who suffer a sting can crack open a kit and avail themselves of a vinegar-urea spray mix, which helps chemically counteract jellyfish venom, or a heat pack, which degrades venom proteins.
Kits also include a hydrocortisone-based cream, which helps to settle down some of the rash, she said.
The impact of more jellyfish on the wider ecosystem is up for debate, and Ms. Corbett said more research needs to be done. Too many comb jellyfish in an area can have a detrimental effect on oysters in the bay; other jellyfish species can level off the comb jelly population and help oysters, she explained. But she questioned if the increase "impacts any other smaller species that could end up being potential prey for these jellyfish."
Looking Back, Moving Ahead
Examining Ms. Corbett's background, her present work seems meant to be: summering at her grandparents' home in Popponesset as a child? Check. Growing up with parents in the water chemistry field? Check. High school science fair projects on algae blooms and nutrient pollution? Check.
Ms. Corbett estimated she spends about half the year in Mashpee these days, including most of the summers. She is the science department head for Abington High School and this year will teach 11th and 12th grade environmental science.
Her work in Mashpee makes its way into the classroom, she said, "especially when it comes to the units about nutrient pollution and eutrophication."
"Mashpee serves as a good example of some of those cases."
In 2021, Ms. Corbett founded the water alliance, a nonprofit dedicated to raising awareness of environmental issues in the region. The group has six or seven members who have been involved regularly since its inception, she said, as well as community volunteers who help off and on.
They have their work cut out for them: learning more about Mashpee's new visitors is one thing, but eradicating them is another. There is evidence that suggests some of Mashpee's invasive seaweeds could incorporate into the ecosystem and decrease in volume over time, Ms. Corbett said.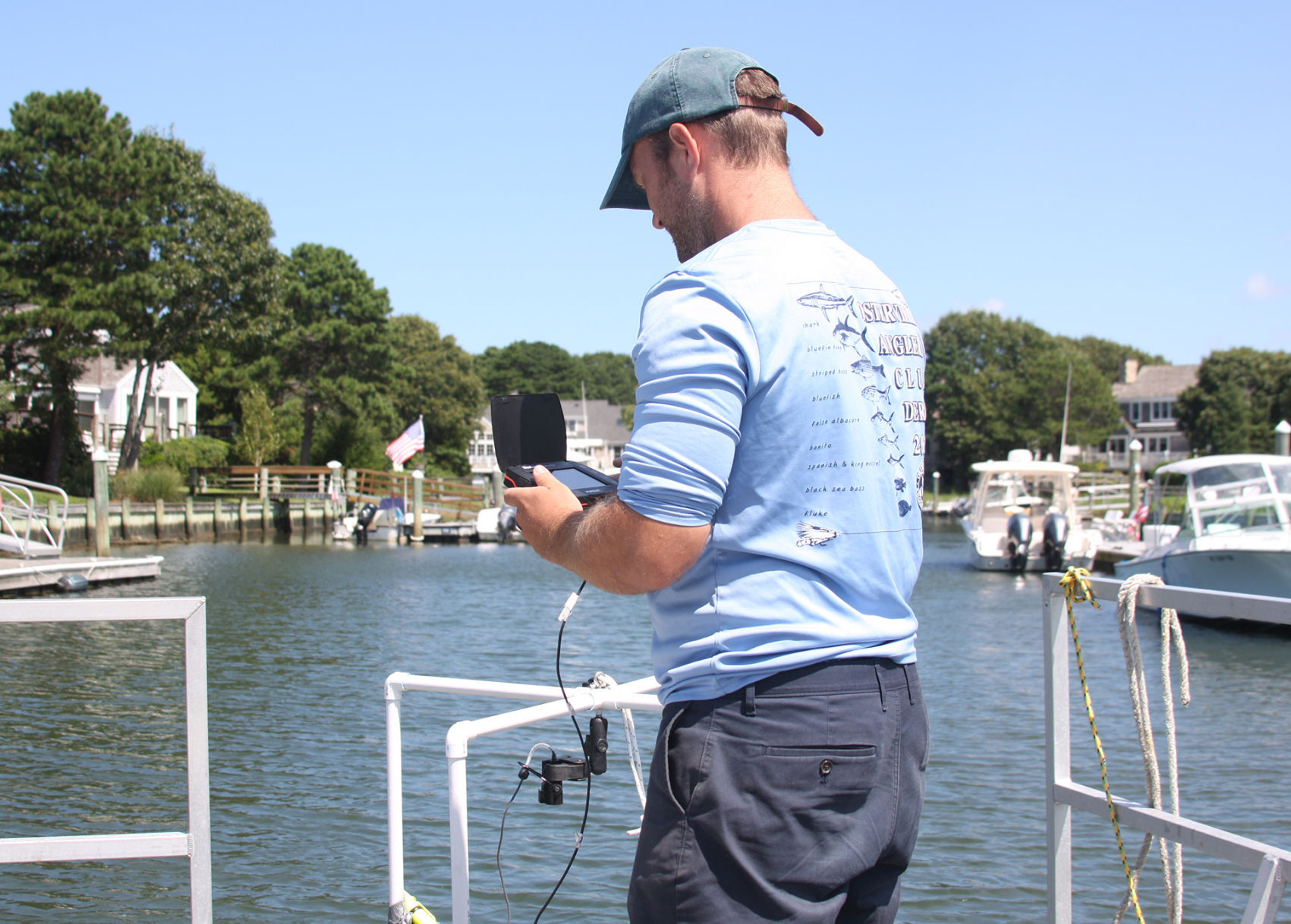 "But in terms of trying to get rid of it, it's really going to be impossible," she said. "So it's more of a sense of seeing if it can be managed."
An experimental jellyfish mitigation program is underway in New Jersey involving pressure-washing docks clean of polyps that become jellyfish—Ms. Corbett said she has reached out to hear how it is going.
"I think in both cases, though, one of the big things that can help is trying to reduce some of this nutrient loading," she said.
Environmental stewardship is a lofty goal, but including residents in her research may be the secret weapon that helps Ms. Corbett get it done, despite the gap she said can exist between research and public understanding.
Citizen science connects the community to research and helps address problems that people are seeing, she said.
"So if you're seeing a lot of jellyfish, or you're seeing a lot of seaweed, well, let's all get involved and try to investigate what's going on."
Mashpee resident and conservation commission chairman Paul D. Colombo is among those impressed with Ms. Corbett. Reached on Wednesday, August 30, Mr. Colombo called attention to the importance of her research and said he would like her to speak to the commission in the future.
"Every time I talk with her, I'm learning more," he said.
"You're basically undergoing an ecosystem transformation"
---
'A Perfect Storm Of Circumstances': Mashpee Scientist Researches Seaweed, Jellyfish Surges – Mashpee Enterprise